Description
Green Gothic Vestment.
Gothic style chasuble with matching stole
Front and back Fish, Chalice Wheat Embroidered high
quality
 embroidery
Fabric damask, available in all liturgical colors ( full Colors)
Length 130 cm
Width 154 cm
About custom dimensions, please contact us
Handmade in Viet Nam with high quality.
This one is using a lot in Viet Nam and exporting.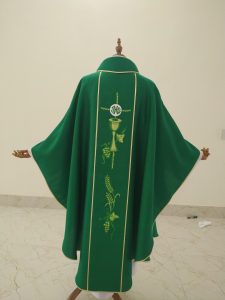 Customer Support
E-mail:chasublesvn@gmail.com
Phone:+84 977 019 792 ( Skype, WhatsApp, Viber)
Full name: NGUYEN VAN THAP from Viet Nam