Description
Purple Chasuble with Jesus
Handmade in Viet Nam
Purple Chasuble with Jesus and stola.
Purple Chasuble meaning is Worn during Lent or the Advent, purple represents penance, preparation, and sacrifice. It is also worn at funerals because of its connection to mourning.
Purple chasubles are donned to remind the funeral-goers to pray for the penance and absolution of the departed.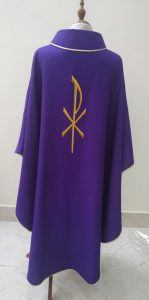 Customer Support
E-mail:chasublesvn@gmail.com
Phone:+84 977 019 792 ( Skype, WhatsApp, Viber)
Full name: NGUYEN VAN THAP from Viet Nam