Yellow Chasuble Gothic With Logo
$201.10
Chasuble Details:
Length 130 cm
Width 154 cm
About custom dimensions, please contact us by email your hight and weight
Fabric: Lightweight Fabric
Liturgical Colors: White, Green, Red.
Handmade in Viet Nam
Safe shopping

5 weeks

for free shipping worldwide. ⇒ Contact: Skype, WhatsApp, Viber +84 977 019 792
⇒Chasublesvn@gmail.com
Description
Yellow Chasuble Gothic With Logo
Time for making one week.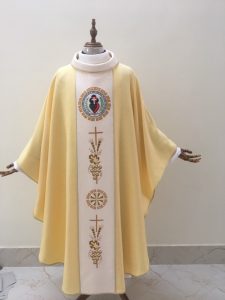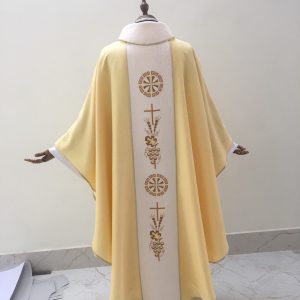 Thank you so much.
More
Please contact us by email after paying.
Free shipping worldwide
However because such shipments often involve the peculiarities of the various tariffs trade and import/export laws around the globe we may not be able to ship some orders overseas due to the cost of researching the laws for that location. Please contact us by email before we send product.

Thank you for visiting us today! May God Bless You!